GLASE Membership:
CEA Producers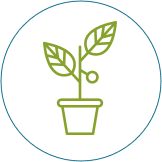 New greenhouse lighting systems consume less energy than traditional technologies and offer an attractive long-term return on investment, but when it's hard to comparison-shop, a headache to mix and match lights and control systems, and expensive to upgrade, how do you find something that works?
Membership Benefits
Talk directly to GLASE's world-class team of horticultural researchers.

Review our unbiased case studies, technical reports, and proof-of-concept trials before you decide on upgrades.

Use your seat on the GLASE Industrial Advisory Board to guide GLASE's research agenda.

Leverage our leading-edge innovations in integrated CO2, lighting, and shade control systems to save operational costs.
AUTOMATING DIMMING
LED lighting is capable of fine-grained dimming, allowing growers to take advantage of ample ambient light and lower energy consumption. GLASE's growth chamber and greenhouse studies pinpoint optimal strategies for automating dimming control systems.
CONDUCTING BASELINE DATA COLLECTION
We're not just building the models for determining baseline energy consumption—we're also collecting that baseline data. Our team pinpoints pilot projects and runs studies to validate our models under real-world conditions.
CONSTRUCTING BASELINE ENERGY MODELS
Energy baselines serve as reference tools, showing how much energy a facility is currently using. Establishing baseline models allows the GLASE team to accurately calculate energy efficiency improvements.
DEFINING OPTIMAL WAVELENGTHS
We're pinpointing the precise combinations of light wavelengths that maximize yields for crops like tomatoes, strawberries, and leafy greens.
DESIGNING AND TESTING LED FIXTURES
You need LEDs that provide the spectrum and intensity of natural light without adding heat. GLASE-designed fixtures optimize the light patterns that improve your yields and lower your energy costs.
DETERMINING IDEAL CO2 CONCENTRATIONS
Crop yield is determined by complex interactions between the amount of CO2 a plant absorbs and the daily light integral (the intensity of light and its duration on a given area of the plant). Our team is developing equations that model these interactions, allowing us to pinpoint optimal growing conditions.
DEVELOPING ENERGY SIMULATION ENGINE
Traditional energy simulation engines model energy consumption for HVAC, lighting, and water systems for buildings. GLASE researchers are adapting energy simulation engines for greenhouse agriculture, allowing us to better predict greenhouse energy consumption under a variety of conditions.
DEVELOPING GREEN LED TECHNOLOGY
Deep green LED lights—which are essential for good color mixing—continue to lag behind other colors in energy efficiency. Our team has doubled the green light output for a given power input, with more improvements still to come.
DEVELOPING HIGH-EFFICIENCY LED DRIVERS
As LEDs heat up, they consume more energy. If left unchecked, this process results in thermal runaway, burning out LEDs prematurely. We're developing new drivers that regulate temperature and energy consumption, saving you money and increasing the life of your investment
DEVELOPING INTEGRATED CONTROL SYSTEMS
Commercial buildings have long used room control sensors to adjust balances between lights, shade, CO2, temperature, and humidity. We're adapting and optimizing those controls for greenhouse environments to enable better yields at lower energy costs.
DEVELOPING LAMP TEST REPORTS
Our team is developing industry-specific annual reports for commercial horticultural lamps—reports that will help you choose the best available products for your greenhouse.
DEVELOPING MEASUREMENT PROTOCOLS
Comparison shopping for lighting systems is complicated by the lack of standardized tests for horticultural lighting. We're developing standard measurement protocols that will help simplify decision-making.
IMPROVING HIGH REFRACTIVE INDEX (RI) ENCAPSULANTS
Much of the light emitted from LEDs ends up reflecting back inside the light itself, increasing heat and reducing efficiency. We're working on coatings that help extract more light from each LED fixture.
IMPROVING THERMAL MANAGEMENT
High-energy LEDs (like those used in greenhouses) typically convert 70% of the electricity they use into heat. We're working on new ways to remove that heat to increase the efficiency and lifespan of your lights.
OPTIMIZING FOR LEAFY GREENS
Different parts of the light spectrum have different effects on plant growth. At GLASE, we're learning which narrow regions of the spectrum contribute most to nutrition in leafy greens, allowing us to fine-tune lighting systems.
REDUCING ENERGY COSTS
We're examining the energy use and costs of various greenhouse lighting systems to help you make informed choices that can save you money.
STUDYING TALL PLANT CANOPIES
We're investigating how light is distributed in tall plant canopies such as tomato plants to help you determine the most efficient lighting pattern for optimizing plant response and crop yield.
INTEGRATING CO2 AND DAILY LIGHT INTEGRAL (DLI)
We conduct leading edge greenhouse studies and pilot demonstrations of combined light and shade system implementation (LASSI), CO2 enrichment, and energy-efficient LEDs to find combinations that maximize yields and minimize costs.
BECOME A MEMBER
GLASE Industry Membership has something for you. As an Industry Member, you'll help steer our research and get early access to GLASE-developed technology. Learn more about how GLASE can help you.