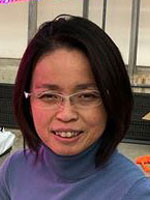 Chieri Kubota, Ph.D.
Professor, Ohio State University
Dr. Kubota's research mission is to serve in the development of science and technology in the area of controlled environment agriculture (CEA). Her projects are in an interdisciplinary area that encompasses plant physiology and horticultural engineering to enhance understanding and efficiency of CEA plant production systems such as greenhouses, warehouses (vertical farms), and growth chambers.