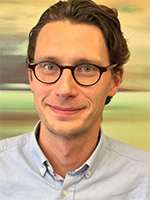 Arunas Tuzikas, Ph.D.
Research Associate, Rensselaer Polytechnic Institute
Dr. Arunas Tuzikas has degrees in Optoelectronic Engineering and Material Science from the Vilnius University (Lithuania). His thesis aims to investigate how controllable spectral power distribution solid state light impacts everyday life by mainly focusing on such niche applications as artwork illumination and street (outdoor) lighting. Based on research results, Arunas co-founded a Startup Company to develop a light source for preferential color rendition. As a research engineer, Arunas joined Lighting Enabled Systems & Applications Engineering Research Center (LESA) at Rensselaer Polytechnic Institute in 2015, and together with other activities, started developing light prototypes for horticultural applications. He has co-authored of 19 peer reviewed journal articles, 3 technology patents and presented his work in 25 international conferences.
"It will take time to be able to grow plants under artificial light alone resulting in big profits, but with every day we are one step closer." – Arunas Tuzikas