Collecting and analyzing data are key factors in operating a modern greenhouse. More importantly is having experienced growers who can use this data to deliver maximum crop yields.
As the cost of sensors for controlled environment agriculture become more sophisticated and more affordable, growers have an opportunity to collect a great deal of data about the crops they are producing and the environment in which those crops are grown. With all of this data the question then becomes, how much of this data is going to be collected and how is it going to be used to improve crop production?
Data collection, application
Little Leaf Farms in Devens, Mass., began producing leafy greens and herbs in a hydroponic moveable gutter system in 2016. The company, which began with 2.5 acres of glass greenhouses, doubled its size in 2018, and will expand to 10 acres this year.
"We use data across our entire operation," said Paul Sellew, founder and CEO of Little Leaf Farms. "From growing, sales, food safety and project management, data is integrated throughout our entire organization.
"Through our environmental control system our growers collect a vast amount of data. Sensors in the greenhouse are tied to a number of key climate variables, including temperature, humidity, light and carbon dioxide. We are constantly analyzing this data and then making the necessary adjustments. We are controlling all of these climate variables in a way so that we can optimize plant growth."
Data collection is also a key factor in the success of the company's integrated pest management program.
"We don't use any chemical insecticides, fungicides or herbicides," Sellew said. "We are always looking at the data regarding pests in the greenhouse. We use the data in regards to introducing and maintaining the population levels of biological control agents to make sure no pests have a deleterious effect on our crops."
Little Leaf Farms also collects and analyzes a great deal of data related to its water quality.
"Our water system captures the water, cleans and treats it and delivers a consistent fertigation level to the plants," Sellew said. "The key water and nutrient variables including macronutrients, micronutrients, EC, pH, temperature and dissolved oxygen are managed on a minute-by-minute basis in our hydroponic system.
"In regards to the systems we are using, we buy what is available and then we customize it to meet our needs. We have hardware in the greenhouse, but the software is really our operating system. We use data every day as part of how we run our business. We're investing in next generation ways to analyze the data to get finer points out of it. I believe in continuous process improvement. There is so much opportunity with computing power and data analytics."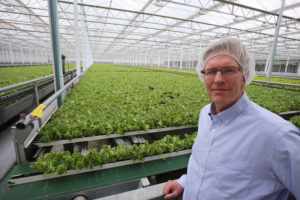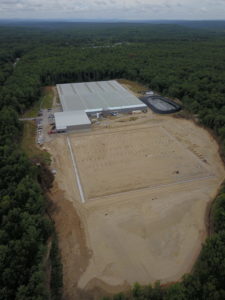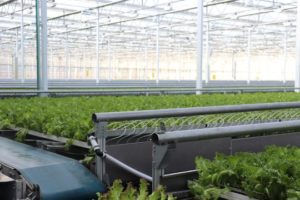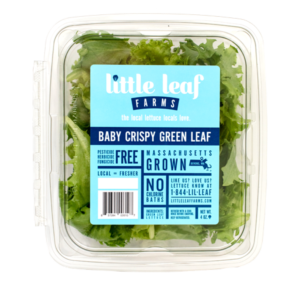 Photos courtesy of Little Leaf Farms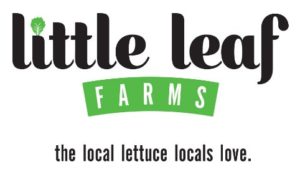 Need for experienced growers
Even though Little Leaf Farms is committed to using and investing in data science, Sellew said it is critical to having experienced growers operating the greenhouses.
"Currently there is this push- pull relationship between engineers and growers in the area of vertical farming," he said. "In academia they call this interdisciplinary research, trying to get people from different disciplines working together. There is a surplus of engineers and a deficit of really experienced growers.
"Our view is that humans are still in charge. I want to give our growers data so that they can do their jobs better. Inundating inexperienced growers with data is probably going to do more harm than good. I'm a big believer in having very experienced growers who are not only trained and educated in the plant sciences, but also have the background working in greenhouse systems. Experienced growers are able make sense of all kinds of data and analyze it so they can maximize the use of that data. What gets lost with all of this data science, engineering and software is the importance of having great people. That is so important to me."
Sellew said a grower's job is to produce a consistent quality product and to maximize yields.
"In a modern hydroponic greenhouse and the speed with which plants grow, you know right away if something is not right with the plants," he said. "It is so dependent on the environment, the nutrients and all of the variables that we are measuring and managing. That is the responsibility we give our growers do a great job.
"It comes down to the key metric of kilos per square meter, which drives our business and is what our growers are responsible for. If we are collecting and analyzing the data and running the systems properly that translates into maximum yields. Whoever can produce the greatest yields based on high quality, which is a given, will ultimately translate into business success in a modern greenhouse."
Competing with field production
Currently in most cases, field vegetable producers are growing at a lower cost than controlled environment growers.
"The only way we are going to transform the controlled environment leafy greens industry is to lower the cost of production so that we are competitive with field growers," Sellew said. "That is where advances in hardware, software and data science, under the skill set of world class growers are we going to be able to produce more product and ultimately lower production costs and turn this into a real industry.
"There are some CEA companies, including Little Leaf Farms that are competitive now. For many other CEA growers their cost of production is not competitive. These companies are looking at niche markets that are much smaller than the mainstream markets we are selling into. One of our products, which has been on the market for 3½ years, is the number one selling packaged lettuce in the New England market. We're competitive right now. That is the focus of our business and that is what keeps us going strong every day."
Working with GLASE
Sellew said it is important that his company, which is a member of the Greenhouse Lighting and Systems Engineering (GLASE) consortium, has an opportunity to work with the scientists involved with the organization.
"It is very important that we have the ability to compare notes, understand what's going on with relevant academic research and then make sure we are doing everything with our business that is consistent with the best science," he said. "Having an organization like GLASE allows us to connect with other growers and academic researchers. As we continue to refine our state-of-the-art facility, being a GLASE member offers us the opportunity to learn and to make the necessary improvements and adjustments in our operation to produce the highest quality product at the lowest possible cost."
"We're investing and we're looking to get better every year. The CEA leafy greens industry is in its early stages so there are going to be opportunities for big improvements. If you are a believer in the continuous improvement process, then you incorporate what you have learned in your future facilities, which should translate into even higher quality and lower costs."
For more:
Little Leaf Farms
(844) 545-5323
info@LittleLeafFarms.com
https://www.littleleaffarms.com
---
David Kuack is a freelance technical writer in Fort Worth, Texas; dkuack@gmail.com.