Clearwater Organic Farms, which is the GLASE consortium's first CEA producer member, sees the opportunity to access the latest state-of-the-art systems and science.
When Peter Ciriello and three other partners started Clearwater Organic Farms in Rochester, N.Y., in 2016 they saw an opportunity to grow leafy greens in an environmentally- and socially-responsible way.
"We saw a big opportunity to deliver fresh, local and organic vegetables year round using controlled environment agriculture (CEA)," Ciriello said. "The use of CEA to produce leafy greens provides consumers with a fresher, cleaner, better tasting product. Using greenhouses to grow vegetables such as tomatoes and peppers is very traditional, but we wanted to take a different approach and provide products that we felt were underserved in the market. 
"Much of what we will produce in the East is being produced on the West Coast and in the southwest United States. On-going issues with water, shipping and labor help to support our business model to deliver fresh vegetables to those major population centers in a more efficient and carbon friendly fashion. We saw those on-going issues as something important to the market and to consumers that needed to be addressed. By using greenhouses to grow baby leafy greens, we can grow year round, have crops that are flexible to market demand and we can optimize production. This production can be done in much the same way as manufacturing businesses do by employing lean practices, observing strict quality control procedures, creating high skilled jobs and developing and implementing new technologies."
Ciriello and his partners are in the process of building two greenhouse production facilities, an 11-acre operation in Rochester, N.Y., and a 4-acre facility in Taylorville, Ill.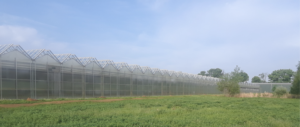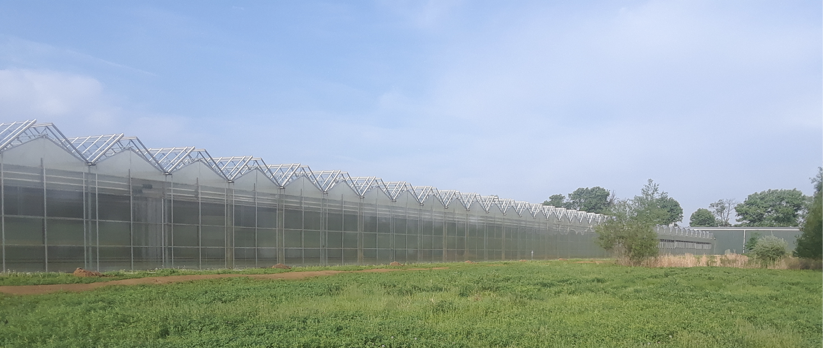 Clearwater Organic Farms greenhouse facilities in Taylorville, Ill. – Photo by Peter Ciriello, Clearwater Organic Farms
"What we looked at when choosing the greenhouse locations is the population that exists within a 400-mile radius of each operation, which is considered to be 'local' according to the USDA (one-day shipping time)," Ciriello said. "It was important that the market for these two production facilities did not overlap.
"Also the population base within a 400-mile radius of these production locations is 40+ million people. That is a big population base. We are looking at the markets in a strategic way to make sure that we addressed certain population centers without conflicts for our channels of distribution."
Using the right inputs
Clearwater Organic Farms will be using floating raft, deep water pond technology. The company is working with HydroNov Inc. in Quebec, Canada, to design the production system. The Illinois facility is currently under construction and leafy greens production is expected to begin in August. Site work at the Rochester location is expected to begin this summer with growing beginning in spring 2019.
"The facilities that we are building are going to be similar to others used for controlled environment agriculture," Ciriello said. "When growing organically, inputs such as seed, growing media and fertilizers become critically important to continually ensure compliance with the strict standards required by the USDA."
To further on-going employee development and training, the company is partnering with local community colleges in Illinois and New York.
"We have partnered with Lincoln Land Community College in Taylorville and Monroe County Community College in Rochester to provide training of our production and technical staff in all aspects of food safety, production and processing," Ciriello said.
Technology driven
One of Ciriello's responsibilities in the partnership is to manage the technology and engineering for the business.
"It is important to me that Clearwater Organic Farms takes a position of leading in technology as opposed to following in technology," he said. "This leading-edge technology could apply to many components of the operation including lighting, greenhouse systems, grow science, controls and nutrients. It is important to our business to be current with the latest state-of-the-art production and control systems and science. This is why joining GLASE makes sense and fits into our long term strategy."
Although Ciriello comes from a manufacturing background, he sees many similarities between manufacturing and CEA.
"CEA is certainly farming, but applying well-developed manufacturing techniques and practices in CEA can be beneficial for our customers, consumers and investors," he said. "What is important is to optimize growing and production, controlling costs and assuring the highest quality to make sure that our customers receive the product they expect."
For more: Clearwater Organic Farms LLC, https://www.clearwaterorganicfarms.com.
David Kuack is a freelance technical writer in Fort Worth, Texas; dkuack@gmail.com.